Details

September 15, 2023
2023 Joint Industry Event
Exploration: Corporate Tourism Trends & the AI Frontier
Hilton Columbus at Easton, 3900 Chagrin Dr., Columbus, OH 43219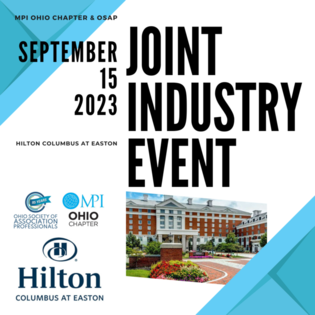 Seating is limited. Select this link to register!
OSAP and MPI OHIO are pleased to present the 2023 Joint Industry Event, an engaging and enlightening experience that combines the trends of corporate travel and tourism with the cutting-edge realm of Artificial Intelligence.
During our morning session, expert panelists will delve into the ever-evolving landscape of corporate travel and tourism, sharing insights on trends, challenges, and best practices when engaging with one another during the planning process. Panelists include:
Angela Hammond, Director, Convention Sales, Experience Columbus
Danielle Dobkins, Corporate Meeting Planner, Huntington Bank
Phil Ball, Director of Sales and Marketing, Hilton Easton
Sheila Fox,CTA, Event In Site, LLC
Following the morning session, prepare to be inspired by our luncheon keynote speaker, Ray Waite of Lighthouse Force, as he unveils the fascinating landscape of Artificial Intelligence.
Discover how AI is revolutionizing industries across the board. Ray will demystify AI technology by explaining the fundamentals and future direction of AI. He will help you identify and map your unique business needs to what AI can offer and create a plan for finding the right technology that works for you!
SCHEDULE:
10:00 - 10:30 AM Registration & Networking
10:30 - 11:30 AM Panel Discussion
11:30 - 12:00 PM Networking
12:00 - 2:00 PM Keynote Luncheon
COST:
Full Event
OSAP and MPI Ohio Members: $125
Nonmembers: $200
Morning Session Only
OSAP and MPI Ohio Members: $50
Nonmembers: $80
Keynote Luncheon Only
OSAP and MPI Ohio Members: $75
Nonmembers: $120

Submitted for 2.5 CAE hours.
Consent to use of photographic images: Registration and attendance at or participation in OSAP meetings and other activities constitutes an agreement by the registrant to OSAPs use and distribution (both now and in the future) of the registrant or attendee's image in photographs, videotapes, and electronic reproduction of such events and activities.
OSAP's official photographer of record:

Add to Calendar
aCLuDhaqizCaPxAftmqF167204
09/15/2023
09/15/2023
true
America/New_York
2023 Joint Industry Event
Seating is limited. Select this link to register! OSAP and MPI OHIO are pleased to present the 2023 Joint Industry Event, an engaging and enlightening experience that combines the trends of corporate travel and tourism with the cutting-edge realm of Artificial Intelligence. During our morning session, expert panelists will delve into the ever-evolving landscape of corporate travel and tourism, sharing insights on trends, challenges, and best practices when engaging with one another during the planning process. Panelists include: Angela Hammond, Director, Convention Sales, Experience ColumbusDanielle Dobkins, Corporate Meeting Planner, Huntington Bank Phil Ball, Director of Sales and Marketing, Hilton EastonSheila Fox,CTA, Event In Site, LLC Following the morning session, prepare to be inspired by our luncheon keynote speaker, Ray Waite of Lighthouse Force, as he unveils the fascinating landscape of Artificial Intelligence. Discover how AI is revolutionizing industries across the board. Ray will demystify AI technology by explaining the fundamentals and future direction of AI. He will help you identify and map your unique business needs to what AI can offer and create a plan for finding the right technology that works for you! SCHEDULE:10:00 - 10:30 AM Registration & Networking10:30 - 11:30 AM Panel Discussion11:30 - 12:00 PM Networking12:00 - 2:00 PM Keynote Luncheon COST:Full EventOSAP and MPI Ohio Members: $125Nonmembers: $200 Morning Session OnlyOSAP and MPI Ohio Members: $50Nonmembers: $80 Keynote Luncheon OnlyOSAP and MPI Ohio Members: $75Nonmembers: $120  Submitted for 2.5 CAE hours.   Consent to use of photographic images: Registration and attendance at or participation in OSAP meetings and other activities constitutes an agreement by the registrant to OSAPs use and distribution (both now and in the future) of the registrant or attendee's image in photographs, videotapes, and electronic reproduction of such events and activities. OSAP's official photographer of record:  
Hilton Columbus at Easton, 3900 Chagrin Dr., Columbus, OH 43219
---